SuperBowl XLVII is right around the corner. And this year, most of the staff here at Medlock Ames is more excited than usual. Not only is the big game being held in New Orleans, home of Tulane Univeristy where our founders Ames Morison and Chris Medlock James became friends and roommates, but the San Francisco 49ers are making their first SuperBowl appearance since 1994. This calls for something special. This calls for pancetta, chicken and seasonings. This calls for our delicious 2008 Merlot. This calls for Sriracha--yes, "the rooster sauce".
Because, if there is something that unites everyone on SuperBowl Sunday regardless of team affiliation it's food. And contrary to what big beer might lead you to believe, it's not all about Light this and Light that. Food is so often just plain better with wine. Find that perfect pairing and oh boy--the food tastes better, the wine tastes better---you know how it goes. So if you're looking for something perfectly crowd pleasing, exciting and delicious, you'll want to give this recipe a try.

We started with a base recipe containing Chicken Breast, Pancetta, Brown Sugar, Cayenne and Chile Powder.
This recipe was beyond amazing in its original form. But one thing we love in everyday cooking? Sriracha. We suspected that as usual, Sriracha would just make this even better. So we added it to the ingredients.


We had to test it out to be sure. But hands down, the Sriracha version was the winner. Pair with our 2008 Medlock Ames Merlot.

Ingredients:
3 boneless skinless chicken breasts cut into 1 inch cubes
1 pound smoked pancetta
1 cup dark brown sugar
1 tablespoon hot New Mexico chile powder
1/2 tablespoon cayenne pepper
Sriracha to taste
Directions:
1.) Coat cubed chicken generously in Sriracha
2.) Wrap Sriracha-coated chicen in smoked pancetta and spear with a toothpick to hold together
3.) Mix brown sugar, chile powder and cayenne
4.) Dredge wrapped chicken in the brown sugar mix
5.) Place on foil-lined baking sheet and bake at 400 degrees Fahrenheit for 30-35 minutes
6.) Serve with a fruit-forward red wine such as our 2008 Medlock Ames Merlot
Enjoy! And go Niners!
Composting at the Bell Mountain Ranch

Though not always the most exciting, composting is one of the most important elements of sustainability here at the ranch. Not only does composting help minimize the amount of waste that leaves our property, it also helps keep our soils fertile for long-term farming. At Medlock Ames, our compost production is led by two important team members: Agustin, our Vineyard Foreman and Anton, our Director of Gardens.

At Bell Mountain Ranch, our 320 acres is filled with organic matter to maintain. We limit our vineyards to just 56 acres, but have planted extensive gardens and groves of olive trees. As a result, we always have a wide array of fresh clippings to contribute to our compost. In addition, each year after we harvest and crush our grapes we end up with a large quantity of pomace (the leftovers from pressing), comprised of mostly grape skins and seeds.



Unlike home composting, because we have such extensive sources of compostable materials we end-up with up-to a dozen different compost piles at any given time. You may wonder: why don't we just maintain one pile? We are careful to avoid mixing elements that will break down at different rates. For example, grapevine clippings will potentially take twice as long as pomace to convert to soil, so we compost them separately to maintain the highest levels of efficiency.

One critical ingredient that helps aid the breakdown process of other compost elements is manure. Manure helps heat up the compost to temperatures up-to130?F, catalyzing breakdown and killing the many seeds in pomace and other compost materials so they won't sprout in our vineyard. Though we are not able to maintain a herd of animals on site, we are able to acquire manure from a neighbor's horse ranch.

The other essential elements for effective compost breakdown are air, water, and sun, (just like a plant.!) So, during the hot season we occasionally water our compost piles as they dry out, and once a month we turn each compost pile for air circulation to encourage even composting.


One of the biggest challenges we face is to create balanced compost that is not too acidic or heavy in one nutrient. We maintain a careful balance by utilizing cuttings from our gardens and mulch from vine and tree prunings in addition to pomace and manure mentioned above. Even the algae and azola that we skim from the ranch's ponds go a long way towards helping to create balanced compost just right for adding back to the vineyards and gardens.

We spread compost in our vineyard blocks just a couple times each year---once in the early spring to charge the soil just before the vines come out of dormancy, next, right after harvest to replenish the soils. We make a diluted, "compost tea" that is less potent than straight compost and can be added often to garden soil throughout the growing season.

Overall, composting is quite a process, but we feel it's worth the time and effort to create quality nutrients for our soil and to maintain our goal to be a truly sustainable business. Hopefully anyone who's tried our wines or fresh veggies will agree the result it worth the effort!




There are two exciting points to this entry.
I have the pleasure of officially introducing you to our newest release, our 2011 Sauvignon Blanc---it really is my favorite Sauvignon Blanc to-date.
I get to make the introduction on video.
That's right. This marks our first official foray into Medlock Ames video production. While I tend to prefer making wine to making movies, I am excited that the videos we plan to produce will enable you to better visualize the beauty of Bell Mountain Ranch, where our certified organic vineyards and solar powered production facility help bring to life our vision of a truly sustainable winery. Not everyone gets a chance to visit the ranch in person*, so we thought we'd to bring it to you. Let us know if there is something specific you'd like to see in video, just send us an email or leave it in the comments area of this post.
I will let the video make the official introduction to our 2011 Sauvignon Blanc, but one important point I want to call out is that this wine was very limited in production. Due to an extremely difficult 2011 harvest we were only able to produce about half of our average production, less than 600 cases produced. The fruit we were able to harvest was of amazing quality and has translated to a wine with wonderful citrus aromas and flavors and a bright, crisp acidity. This Sauvignon Blanc makes a great companion for salads that highlight spices and fresh greens, fresh oysters, rock shrimp, fish dishes and goat cheese. I hope you enjoy it as much as I do.
I'd like to thank John Brandau, who you may know from our Alexander Valley Tasting Room, for his expertise in the production of this piece. It was great to discover that not only is he an amazing wine educator, pizza chef and musician---he can cut a awesome video.
*If you're in the area, why not visit Bell Mountain Ranch in person? We offer one guided tour and tasting each day for a small fee that is waived for Wine Club members. we just ask that you schedule in advance.
Here at Bell Mountain I strive to encourage a balance among the insect, animal and plant populations that are beneficial to the vineyard ecosystem. This can certainly be one of the most tedious aspects of managing a vineyard, but it is a key aspect of producing wine sustainability.
Beneficial insects feed on or parasitize the insect pests that can damage the vines. Ladybugs are a great example as they are voracious consumers of pests like leafhoppers and aphids. Pests are always a concern in vineyards (as they are in any farm and garden!), and having a diverse system provides a safety net of sorts by keeping all populations from reaching harmful levels.
By planting only 56 of our 350 acres to grape vines, we have preserved much of the estate as wildlife corridors surrounding the vineyard blocks. This helps guarantee that we maintain enough biodiversity surrounding the vineyards to keep insect populations in balance. We pay careful attention to boosting populations of naturally occurring beneficial organisms by making sure that they have appropriate habitat and food sources available to them throughout the year. One key way to do that is to maintain the right mix and careful timing of flowering cover crops within the vineyard to lure beneficial insects into the blocks where the pests do their damage.
Not long ago we had the opportunity to participate in a study executed by UC Berkeley graduate students that analyzed the potential of specific flowering plants to enhance control of insect pests. Annual Buckwheat, Lacy Phacelia, Sweet Alyssum, Bishops Weed, and Wild Carrot, all common vineyard cover crops that grow at Bell Mountain, were the main focus of the study. The group studied plant and insect interactions in several of our vineyard blocks, and through that relationship I've continued to learn more about the natural cycles that occur throughout the year.
I feel that common sense, careful attention to detail, and a little bit of technical know-how are sufficient to make wonderful wines that truly express the land where they were grown, which is one of the primary indicators of a great winemaker. But, we strive to make wines that go beyond that standard, and the most elegant way to do that is through blending. Blending requires more than technical skill; it is the art of winemaking, rather than the craft. There is a certain magic that happens when different lots of wine are blended together.
The diverse topography and soil types we have on Bell Mountain require that we have many small blocks of grape vines that are managed individually to maximize their potential. We make separate wines out of the grapes harvested from each block, which provide us a vast array of blending components. Some of the wines are a touch too acidic, some are too tannic, some are inky black, and others are soft as silk. Most, in fact, are not quite right on their own and only a few are perfect as they are, as the wines from our Kate & B's blocks seem to be. However, the alchemy of blending can create a new wine that tastes better than any of the components it is comprised of. I feel that blending is the most challenging aspect of winemaking as it involves trying to predict how all of these components will taste together, and also how those flavors will change over time. Fortunately, I find it is also the most satisfying.
I am now preparing for our next round of blending, a project we undertake each spring. We begin by separately tasting each blending component and identifying the characteristics of each wine. We eventually formulate ideas about how the various wines might complement each other, and then we begin small scale blending trials to test those ideas. Overall, the project of blending can take several months of careful tasting and revisiting before we are confident enough to create our final blends, which will age in barrel so that the flavors fully integrate before bottling.
I'm sure you know how much we love to grow and make a diversity of products at our Bell Mountain Ranch. Each year after grape harvest we turn our attention to our 700 young olive trees. We use the olives to make delicious fresh olive oil to use throughout the year, and we cure a portion of them slowly with salt water and marinate them with fresh herbs and garlic from the gardens.
This year our olive crop was very light. Unseasonable June rains hit just when most of the trees were flowering, knocking the delicate flowers off the trees and disrupting fruit set. The few remaining olives struggled to develop during the cool summer, and I wondered if we would be able to harvest any olives at all this year. However, we finally discovered a few trees with a lot of great olives on them. That discovery made me happy that I have chosen to grow eight different varieties of olives, as some flowered after the rains hit and helped ensure a crop this year.
At our wine club pick up party over the weekend we had help from our members to kick off the olive harvest. Each member picked and took home a jar to cure in salt water. We also started a batch curing at the estate to serve at our spring wine club party and in the tasting room. This Monday we donned our picking buckets and hand-harvested the rest of our olive crop by gently coaxing the olives off one branch at a time to avoid bruising. In all, we harvested about 20% of the crop we hope to have in a good year, but the quality is wonderful. We cold-pressed the olives, and the oil is now settling in tank for bottling in early spring. I can't wait to taste it.
I look forward to sharing our oil and olives with you. If you stop by the tasting room or one of our events early next year you will get a chance to taste them!
Although the main grape harvest is still a few weeks away for us, we've already started crushing a small amount of fruit for a new project: verjus. Bon Appetit magazine has a wonderful introduction to its uses, production and origins but essentially, it's the juice from unripe grapes. As part of our quality-centric farming, we frequently remove clusters that are a little further behind (in terms of maturity) in order to improve the purity of fruit in the remaining crop. It's a necessary though painful process – dropping fruit that you've nurtured all season long to the ground.
This year we took the decision to save some of our Cabernet Sauvignon clusters for verjus. The results have been delicious. This sweet tangy vinegar alternative will soon be ready to share but we're very happy to have been able to experiment so successfully with our first attempt. Kudos to the cellar team for their diligence in making time in a packed schedule to make it happen. We should have the first bottles ready to try in the tasting room early October – and some may even make it into the Alexander Valley Bar for some afterhours cocktail experimentation….

Most visitors to Medlock Ames will quickly latch onto this key fact - we're almost as proud of the food we grow as we are of the grapes we farm. At this time of year, despite a wet and odd start to the growing season, we're starting to see all kinds of wonderful and delicious edibles ready to harvest.
One of the most heartening crops to pull in is the humble potato and it's nice to see it make a triumphant return to our bell mountain market garden. Digging up these magical tubers is like finding a tiny pot of gold (or red as the case may be) with a variety of spuds making star appearances this year. The names alone are enough to whet the appetite - fingerling, yukon, red Pontiac and my personal favorite – the purple Viking. (One can almost imagine a brawny and colorful potato making an epic journey across the Atlantic to discover Vinland.)
At any rate, this star vegetable is often relegated to a starchy side role at dinner time so it was nice to see our friends at treehugger put it up on a pedestal with this delicious recipe for a potato salad that pairs bizarrely well with the 2006 Cabernet Sauvignon. It works well and is one of the more creative pairings we've seen – we're tempted to work it into our tasting room menu while these new potatoes are at their peak. Delicious partnerships like this are why we keep on trying new things at Medlock Ames and it goes a long way to reward all those hours in the garden….now back to making wine.
June already. The last couple of months have been a whirlwind - most significantly - we had a lot of rain at an inopportune time. Fortunately the cool spring delayed physiological development so that we had very little bloom when the rain hit.

Now, with the threat of rain over and warm days ahead (105 the other day), flower development is proceeding rapidly, which is what we want. We're watching the vineyard like a hawk, walking every single row twice a week to check on conditions and during these walks my mind tries to digest the 2011 crop that I can see as well as some things I cannot: one thing that is in the back of mind as I walk the rows is that the future 2012 clusters are forming microscopically inside the buds over recent of weeks.
It is true – the tiny initial 'starts' of clusters for next year are quietly forming and the cool rainy weather has an impact on how those develop and I'm betting that we'll see a lighter crop load next year because of it. That in turn triggers some actions for the coming year… we may have higher than normal vigor with less crop for the vines to ripen, so we will want to plan now for that extra vigor – less compost after this year's harvest, a more competitive cover crop, leave more buds at pruning to soak up some of that extra vigor. Lots of moving parts to consider and planning that may give me a headache now but help craft better wines later.
Each year we invite a heard of traveling sheep to our Bell Mountain Ranch for the month of March. It has to be before budbreak so that they don't inadvertently damage the newly emerging crop as the vines come back to life. These sheep, adorable as they are, could all too easily eat or accidentally rub off the tender buds & shoots. Luckily, they aren't the least bit interested in the dormant vines. However, we also have to bring the sheep in late enough that there is enough grass for them to eat. Right now there is an abundance of verdant cover crop that they can't get enough of, so this year we have opted to keep them a little bit after budbreak, which started several weeks ago at the ranch.
In the past we've used only 12-30 sheep, but found that small numbers can't consume enough grass in the time needed. This year we scaled way up and have 300 sheep still happily munching away. They are doing a great job and Rocky and Bear, two beautiful but intimidatingly large Great Pyrenees guard dogs, are keeping the coyotes and mountain lions at bay.
We are watching them very closely to see if they can continue to get a little more mowing done. We have to continually be prepared to move them at a moment's notice, as 300 sheep can do some serious crop damage if we're not paying attention.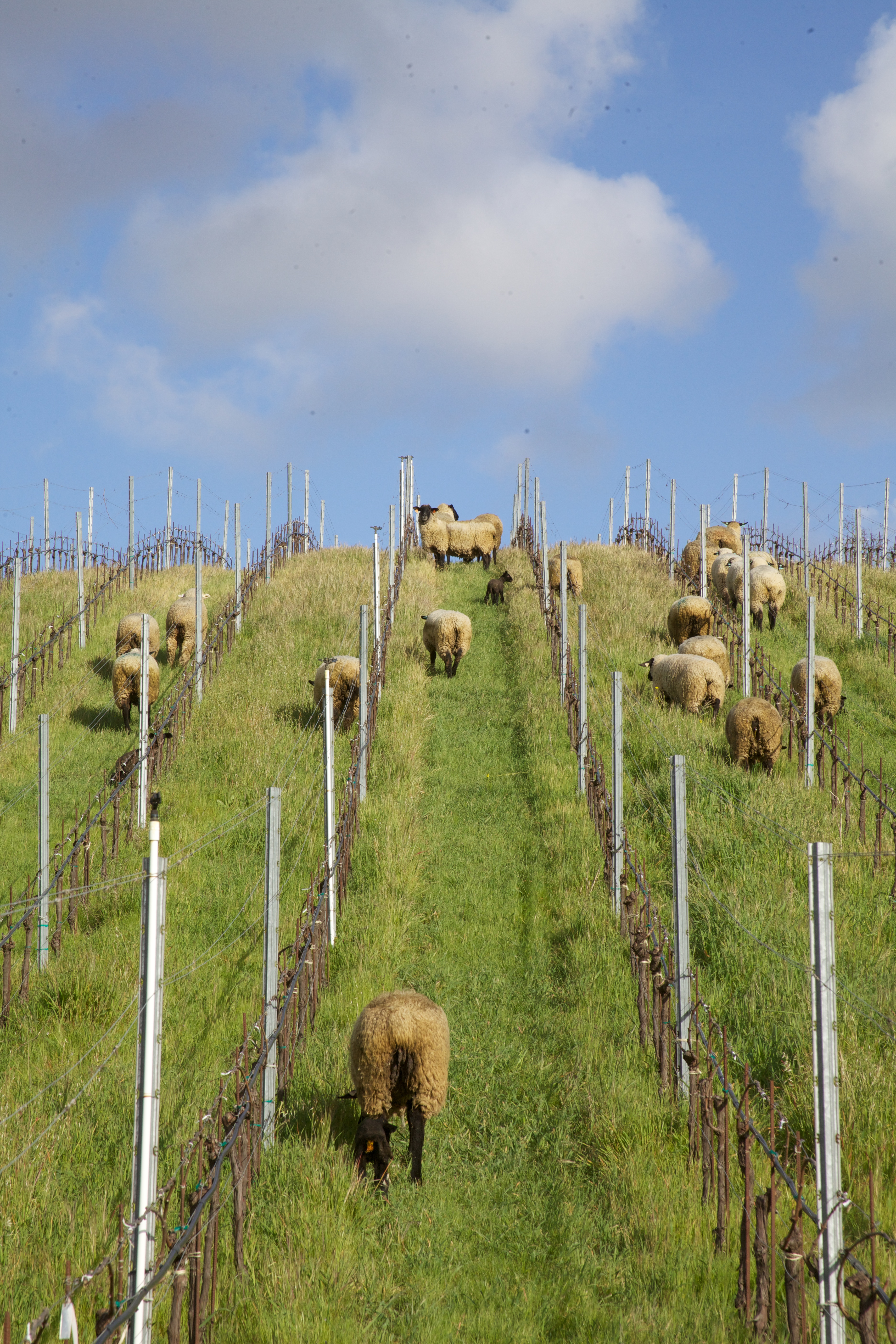 Recent Posts
January 31, 2013

October 4, 2012

September 21, 2012

April 5, 2012

(2 Comments)

March 7, 2012

(5 Comments)

November 17, 2011

September 21, 2011

July 19, 2011

June 20, 2011

(1 Comment)

April 18, 2011
Blog Categories
Blog Archives
Our Writers