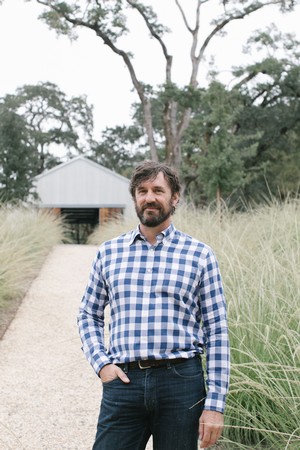 Ames Morison, Co-Founder
Ames Morison is the founding partner of Medlock Ames winery. A Virginian native, Ames graduated from Tulane University in New Orleans with a degree in Ancient History before working as a teacher in New York. He spent three years in the Peace Corps in Guatemala which solidified his desire to be a vocal supporter of organic farming, where he applies diversified agricultural practices to create a balanced and sustainable environment in the vineyards. Light-touch techniques are also healthier options for the vineyard crew that Ames oversees.
Ames planted most of the 55-acre vineyard site as well as supervised the winery's construction that was completed in time for the 2003 vintage. To prepare to grow grapes and make wines from Bell Mountain, Ames worked in enological and production capacities at several Napa and Sonoma wineries as well as studied viticulture and enology at the University of California at Davis.
Having over 20 years of experience of growing grapes at Bell Mountain, Ames looks to the future and the next 20 years of what wines will grow best there. To that end, he is making changes in the cellar to bring out the best of what Bell Mountain can produce not only in Cabernet Sauvignon but in several of the Bordeaux varietals originally planted as blending grapes. New wines will be released in the next 2-5 years that will showcase what this single vineyard site can do.
When Ames is not walking the vineyard, he can be found spending time outdoors with his son, Ulysses.