2019 The Flag Collection
95 pts, Decanter | 94 pts, James Suckling | 94 pts, Wine Enthusiast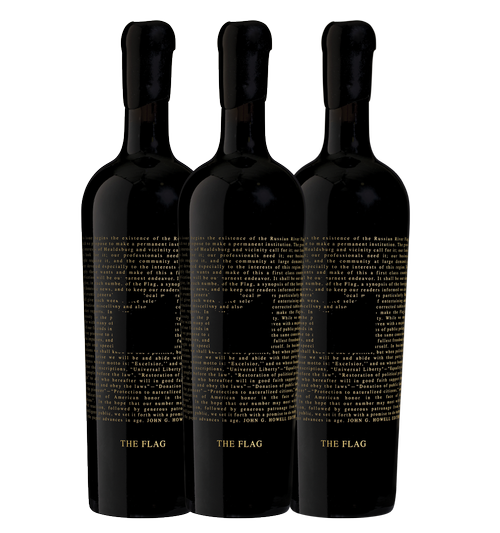 Three Bottles with Custom Box
With a very limited production of 2019 The Flag, this premier vintage is sold in a three-bottle set complete with a custom collector's box.
Introducing a new Cabernet Sauvignon made from the select blocks and barrels that represent the pinnacle of wines Bell Mountain Vineyard produces. The Flag is named in honor of Ames' great-great-grandfather, John Gilson Howell, who owned and published the Russian River Flag newspaper in Healdsburg in the 1860-1870s. This wine epitomizes the bedrock of the idealism and commitment to preserving Bell Mountain and the peak of wines this land produces for generations. To honor the wine and our history, each bottle is adorned with the reprint of the original publisher's editorial on the first edition that Ames' great-great-grandfather printed on November 19, 1868.
This inaugural vintage of 2019 The Flag offers powerful aromas of blackberry, coffee bean, and cocoa powder with supporting notes of fresh herbs, walnut, and lavender. On the palate, the wine provides a dense juicy core surrounded by silky, velvety tannins and shows flavors of currant and fennel, followed by a long, lingering impression of concentrated wild berries.