4th of July
6-Bottle Collection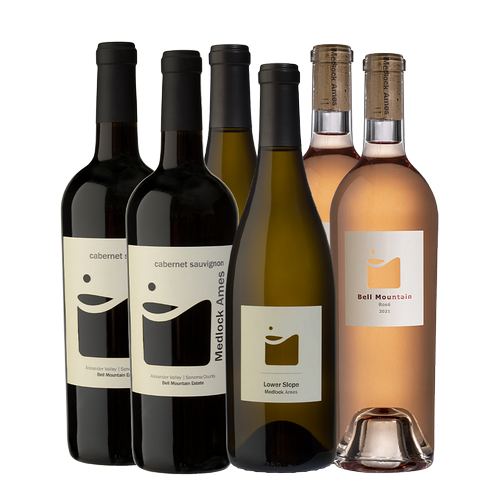 Entertain your friends and family this 4th of July with a 6-bottle collection of some of our estate-grown organically-farmed wines.
This collection includes 2 bottles of each:
2021 Bell Mountain Rosé
2018 Lower Slope Chardonnay
2018 Bell Mountain Cabernet Sauvignon

2021 Bell Mountain Rosé
The gorgeous pink color grabs your attention but it's the intense aromas of rosewater, white nectarine, watermelon, and kiwi fruit that immediately stand out. With the first sip, you will get rich flavors of sun-ripened peach, white cherry, and wild strawberry. This wine expresses the acidity that Bell Mountain Vineyard's cool nights can develop, which leaves a mouthwatering sensation. The finish lingers with flavors of warm summer berries and lemon custard.
2018 Lower Slope Chardonnay - 91 pts, Wine Advocate
The 2018 Lower Slope shows aromas of farm-fresh sweet cream and pear with a touch of peach and hazelnut. On the palate, the wine walks a fine line between the fresh acidity of the wine's youth and the rich umami character born of aging sur lie. This comes through in a balanced combination of green apple and freshness that evolves into a lengthy finish with lingering notes of apricot.
2018 Bell Mountain Cabernet Sauvignon - 94 pts, James Suckling
The 2018 Bell Mountain Cabernet Sauvignon is a true expression of Bell Mountain Ranch. The wine encompasses a rich profile of summer ripe berries, cigar box, chocolate-covered strawberries, and blue fruits. Hints of lavender with a touch of sea spray spring from the glass. This is a wine with an elegant but prominent palate and tingling tannins that leave you craving another sip or a juicy steak on the side.