Estate Selects
3-Bottle Collection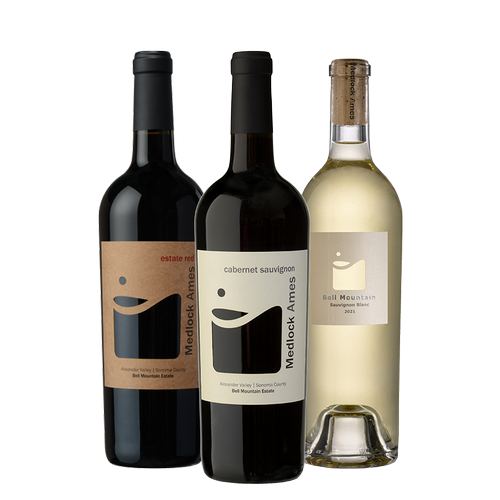 Enjoy a selection of three of our best-known wines. All are 100% estate grown and organically farmed at Bell Mountain Ranch.
Featured wines:
2021 Sauvignon Blanc
2018 Estate Red
2018 Bell Mountain Cabernet Sauvignon
2021 Sauvignon Blanc
The 2021 Bell Mountain Sauvignon Blanc was fermented in 100% neutral oak and acacia barrels and puncheons. The resulting wine has layers of aromas that leap from the glass starting with mandarin and ripe pear followed by a touch of lemon pith, green apple, and honeysuckle. The mouthwatering acidity is rounded out with notes of lemon custard, tangerine, and tart apple with a hint of grapefruit. The lush tropical fruits overlay the balance of the acidity and roundness in this wine.
2018 Estate Red - 70% Cabernet Sauvignon, 19% Merlot, 6% Cabernet Franc, 4% Petit Verdot, 1% Malbec
The alchemy and artistry of blending is something that challenges and motivates us as winemakers. Taking individual varietal components and then blending them into a seamless whole while ensuring that their characteristics are well represented. As a red blend, we are not tied to a pre-determined percentage of any one varietal. This means that we are free to create a unique blend that is delicious right out of the gate. Our goal is to create a wine that hits on all cylinders – flavor, color, texture, depth, finish, and overall impression. Of course, being blessed with the fruit from our Bell Mountain Ranch and our experienced vineyard crew (several have been with us for more than a decade) who meticulously tend the vineyard rows to ensure optimum ripeness and fruit flavor, make things more manageable. We culled several blocks from our estate's Alexander Valley side to craft this final blend.
2018 Bell Mountain Cabernet Sauvignon - 94 pts, James Suckling
The 2018 Bell Mountain Cabernet Sauvignon is a true expression of Bell Mountain Ranch. The wine encompasses a rich profile of summer ripe berries, cigar box, chocolate-covered strawberries, and blue fruits. Hints of lavender with a touch of sea spray spring from the glass. This is a wine with an elegant but prominent palate and tingling tannins that leave you craving another sip or a juicy steak on the side.