Preservation Society Library
4-Bottle Collection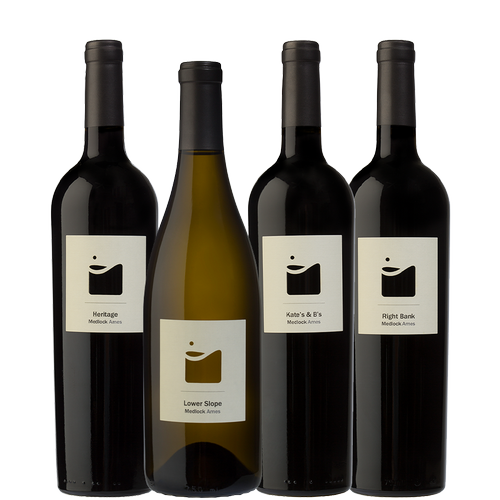 We've unlocked our library to release a selection of wines exclusively available to members of our Preservation Society. This collection will please everyone at your holiday dinner, from your wine connoisseur cousin to your Chardonnay-loving sister.
This collection includes:
1 bottle of 2018 Lower Slope Chardonnay
1 bottle of 2018 Right Bank Red
1 bottle of 2018 Heritage Merlot
1 bottle of 2018 Kate's & B's Cabernet Sauvignon
2018 Lower Slope Chardonnay - 91 pts, Wine Advocate
The 2018 Lower Slope shows aromas of farm-fresh sweet cream and pears with a touch of peach and hazelnuts. On the palate, the wine walks a fine line between the fresh acidity of the wine's youth and the rich umami character born of aging sur lie. This comes through in a balanced combination of green apple freshness that evolves into a lengthy finish with lingering notes of apricot.
2018 Right Bank Red - 92 pts, James Suckling
Our 2018 Right Bank Red is an untamed spirited wine. Primarily comprised of Cabernet Franc, this wine expresses ample amounts of black fruits, cassis, and pomegranate on the nose. Tobacco leaf, espresso, and licorice are balanced by a lively acidity and long structured finish on the palate.
2018 Heritage Merlot - 92 pts, Jeb Dunnuck
Our 2018 Heritage Merlot is filled with bright mouthwatering acidity giving freshness that brings the palate to life with elegant characters of blueberry, black cherry, spiced plum, cocoa, and fresh herbs. A very structured mouthfeel offers an abundance of minerality and lushness making this a wine that can be enjoyed now but will also open over the years. Enjoy alongside the fire or together with your favorite summer grilling.
2018 Kate's & B's Cabernet Sauvignon - 95 pts, Jeb Dunnuck
2018 Kate's & B's has aromas of elegant lavender, sweet vanilla, and warm Christmas spice. The palate is filled with blackberries, raspberries, and hints of cranberry. Elements of cigar box and pencil shavings complement the silky round tannins and a tight backbone of acid that will subdue over time. This wine begs for a special occasion or just to be with someone special when you open it.