Summer Barbecue Trio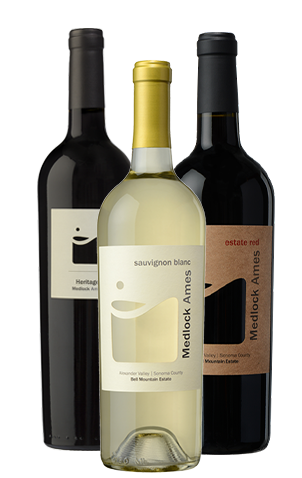 When Chris James and Ames Morison founded the winery in 1998, they were committed to quality wine through mindful and organic farming on our Bell Mountain Estate Ranch. The 338 acre property has less than 20% planted to vine. The unique location affords us several microclimates and well-drained, gravelly-clay soil with a compacted layer of volcanic ash underneath to grow our grapes. There's a strong sense of place and personality in our estate wines…something that we pride ourselves on.
The 2018 Sauvignon Blanc is a stunner, offering a balance of power and finesse that highlights our unique location. It shows aromas of orange blossom, grapefruit, and honeysuckle with a hint of star anise. The overall effect is creamy with a harmonious balance of acidity and structure.
The 2017 Estate Red is a real crowd pleaser, offering expressive aromatics of warm sun kissed raspberry and blackberry with a hint of molasses and bay leaf, followed by the fresh smell of a summer rain. On the palate we find lively acidity and freshness with supple tannins, rich flavors of espresso and dark chocolate. The finish shows mixed berry compote. 70% Cabernet Sauvignon, 20% Merlot, 6% Petit Verdot, 4% Syrah.
The 2016 Heritage Merlot offers ample fruit on the nose and with each sip blueberries, blackberries, raspberries, and baked strawberries jump out of the glass. On the palate, a combination of dark and milk chocolate, vanilla and crème caramel with toasted notes. Fresh, well-framed acid, and chewy tannins resolve into a long caramel finish. This powerhouse of a wine shows that Merlot in its truest form can be elegant, powerful, refined and expressive. 77% Merlot, 23% Cabernet Sauvignon.