Taste of Medlock Ames
6-Bottle Collection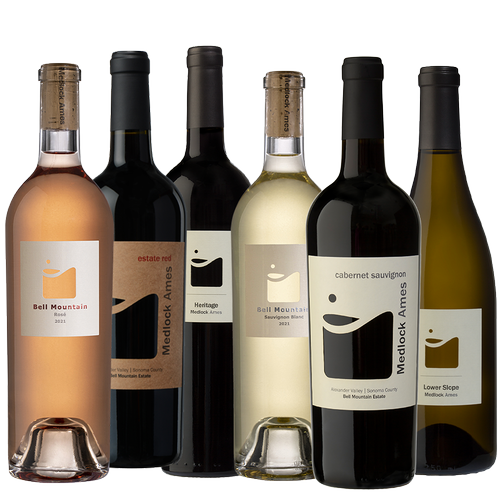 Get to know Medlock Ames by tasting six of our quintessential wines. All 100% estate grown and organically farmed at Bell Mountain Ranch.
Featured wines:
2021 Rosé
2021 Sauvignon Blanc
2018 Lower Slope Chardonnay
2018 Estate Red
2018 Heritage Merlot
2018 Bell Mountain Cabernet Sauvignon
2021 Rosé
The gorgeous pink color grabs your attention but it's the intense aromas of rosewater, white nectarine, watermelon, and kiwi fruit that immediately stand out. With the first sip, you will get rich flavors of sun-ripened peach, white cherry, and wild strawberry. This wine expresses the acidity that Bell Mountain Vineyard's cool nights can develop, which leaves a mouthwatering sensation. The finish lingers with flavors of warm summer berries and lemon custard.
2021 Sauvignon Blanc
The 2021 Bell Mountain Sauvignon Blanc was fermented in 100% neutral oak and acacia barrels and puncheons. The resulting wine has layers of aromas that leap from the glass starting with mandarin and ripe pear followed by a touch of lemon pith, green apple, and honeysuckle. The mouthwatering acidity is rounded out with notes of lemon custard, tangerine, and tart apple with a hint of grapefruit. The lush tropical fruits overlay the balance of the acidity and roundness in this wine.
2018 Lower Slope Chardonnay
The 2018 Lower Slope shows aromas of farm-fresh sweet cream and pear with a touch of peach and hazelnut. On the palate, the wine walks a fine line between the fresh acidity of the wine's youth and the rich umami character born of aging sur lie. This comes through in a balanced combination of green apple and freshness that evolves into a lengthy finish with lingering notes of apricot.
2018 Estate Red - 70% Cabernet Sauvignon, 19% Merlot, 6% Cabernet Franc, 4% Petit Verdot, 1% Malbec
The alchemy and artistry of blending is something that challenges and motivates us as winemakers. Taking individual varietal components and then blending them into a seamless whole while ensuring that their characteristics are well represented. As a red blend, we are not tied to a pre-determined percentage of any one varietal. This means that we are free to create a unique blend that is delicious right out of the gate. Our goal is to create a wine that hits on all cylinders – flavor, color, texture, depth, finish, and overall impression. Of course, being blessed with the fruit from our Bell Mountain Ranch and our experienced vineyard crew (several have been with us for more than a decade) who meticulously tend the vineyard rows to ensure optimum ripeness and fruit flavor, make things more manageable. We culled several blocks from our estate's Alexander Valley side to craft this final blend.
2018 Heritage Merlot - 92 pts, Jeb Dunnuck
Our 2018 Heritage Merlot is filled with bright mouthwatering acidity giving freshness that brings the palate to life with elegant characters of blueberry, black cherry, spiced plum, cocoa, and fresh herbs. A very structured mouthfeel offers an abundance of minerality and lushness making this a wine that can be enjoyed now but will also open over the years. Enjoy alongside the fire or together with your favorite summer grilling.
2018 Bell Mountain Cabernet Sauvignon - 94 pts, James Suckling
The 2018 Bell Mountain Cabernet Sauvignon is a true expression of Bell Mountain Ranch. The wine encompasses a rich profile of summer ripe berries, cigar box, chocolate-covered strawberries, and blue fruits. Hints of lavender with a touch of sea spray spring from the glass. This is a wine with an elegant but prominent palate and tingling tannins that leave you craving another sip or a juicy steak on the side.