November 10, 2020 | Medlock Ames
Five Wines to set your Thanksgiving Table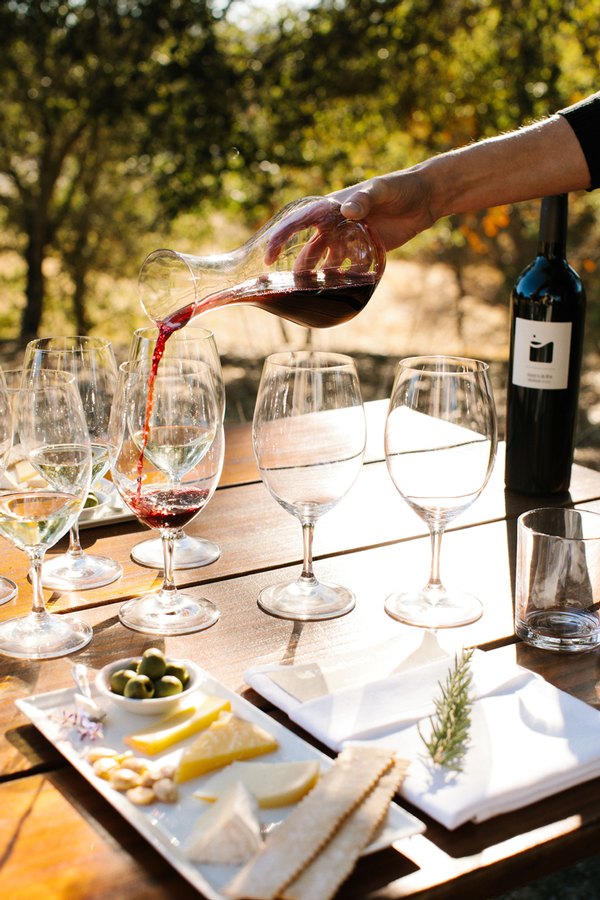 Photo by: Jordan Wise
No matter how you're celebrating or coming together this year, this is a time to reflect on everything we are thankful for. While you may not be getting together with your extended family or your closest group of friends, there is an opportunity to create new traditions and make new memories. Whether you're toasting from afar or enjoying an intimate takeout dinner for two, we've put together a collection of Medlock Ames wines to pair with everything on your table and bring warmth to your holiday celebration.
2017 Fifty Tons Cabernet Sauvignon

Named for its structure, the muscular Fifty Tons Cabernet Sauvignon is harvested from steep hillsides that consistently produce fruit with incredibly intense flavor. A member-exclusive wine, the 2017 Fifty Tons Cabernet offers aromas of blackberry and blueberry accompanied by a powerful palate. Deep berry flavors mix with fresh, juicy red fruit elements and a luxurious chocolate character, kept in check by silky tannins and integrated acidity.
This wine is simultaneously big, bold, balanced, and elegant, calling for a food pairing with an equally strong personality. With the traditional Thanksgiving meal, we enjoy this wine alongside roasted potatoes or Brussels sprouts with bacon. The salty, fatty components bring complementary complexity to this stand-out wine.
2017 Snakepit Red

A lush blend of Bordeaux grapes, our Snakepit Red abounds with ripe fruit aromas. Pronounced blueberry, blackberry, and cherry notes intertwine with subtle, secondary aromas of cigar box, leather, and espresso. In this 2017 vintage, we upped the percentage of Cabernet, providing additional weight and power, resulting in a wine that bears the hallmarks of a cool climate Cabernet from a warmer vintage.
On the palate, the Snakepit Red is juicy, rich, and soft. An ideal wine to enjoy on its own cozied up by the fire, this beautiful Bordeaux blend is also indulgent paired with mushroom dishes and creamy cheeses.
2018 Estate Red

Your favorite red blend – 70% Cabernet Sauvignon, 19% Merlot, 6% Cabernet Franc, 4% Petit Verdot, and 1% Malbec – the Medlock Ames Estate Red is a unique mix that is delicious right out of the gate, vintage after vintage. This wine hits on all cylinders: flavor, color, texture, depth, finish, and overall impression. "The alchemy and artistry of blending is something that challenges and motivates us," says Winemaker, Ames Morison, and that motivation is clearly expressed through this wine.
This is a bottle that loves spicy, salty, and fatty food components, and pairs well with many of your go-to Thanksgiving dishes, from the main course of turkey and stuffing through dessert and beyond. If you're opting for to-go over go-to, enjoy this wine alongside takeout Italian dishes like fresh pasta tossed in a Bolognese­ sauce or filet mignon from your local steakhouse.
2019 Sauvignon Blanc

Our 2019 Sauvignon Blanc, planted at a higher elevation with ample sunshine, opens up with aromas of ripe pear and grapefruit, lifted by notes of anise, confectioner's sugar, and exotic flowers. Seeing brief skin contact to extract structural elements and intensify the character of our Sauvignon Blanc fruit, this wine is bursting with lively acidity that will cut through the heavy flavors on your plate. Try it paired with creamy mashed potatoes and you'll be sure to go back for seconds.
If cooking isn't in the cards, this wine shines alongside the bright flavors of citrus-forward Mexican dishes or the spicy, herbaceous flavors of classic Thai cuisine.
2019 Rosé

With so many flavors on the table, what you really need is a wine that goes with everything, and that wine is our 2019 Rosé. An incredibly food-friendly wine that pairs with a variety of dishes year-round, there's no reason to leave this wine behind on the most food-friendly holiday of all. This Merlot-based Rosé has beautiful up-front aromas of rose petals, cotton candy, and fresh, ripe strawberries, with a faint note of cinnamon and orange peel. On the palate, rich berry and rose-water flavors meet a juicy acidity and round mouthfeel that balance the freshness. At the table, this wine enlivens your palate throughout the meal and pairs particularly well with turkey and cranberry sauce.
If you have of these wines or their past vintages in your cellar, we recommend pulling them out or chilling them down this season! If you're still in need of holiday wines, there's still time If you live in the area, we're offering complimentary local Bay Area delivery on orders of $300 or more. Shop before 11:59 pm PST on Monday, November 23rd for delivery by Thanksgiving Day. Choose "pick-up" at checkout, add your delivery address in the notes section, and we'll handle the rest. Cheers!
Comments
Commenting has been turned off.