November 8, 2021 | Medlock Ames
Set The Thanksgiving Table With These 5 Wines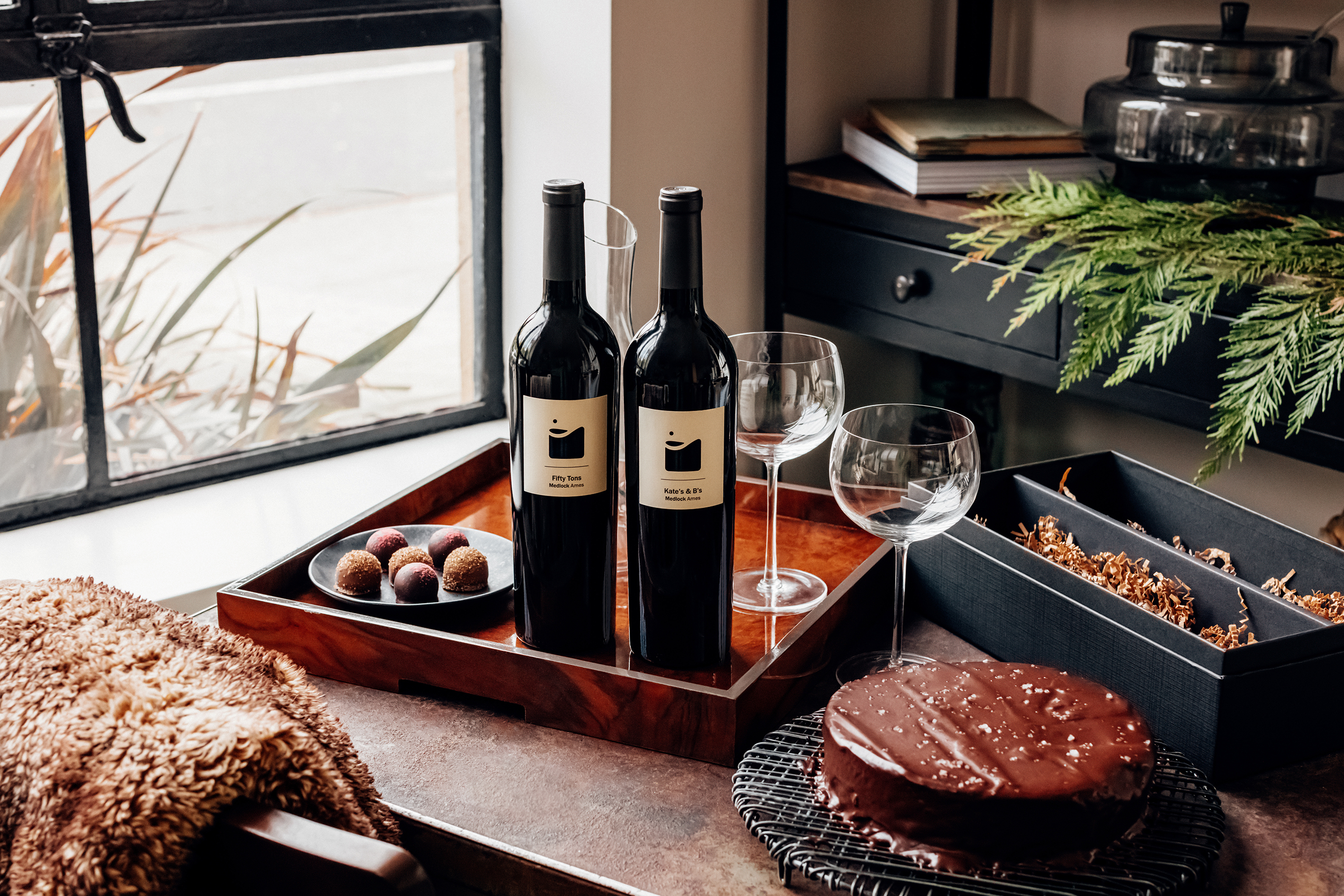 Photo by: Christiann Koepke
This season is a time to reflect on everything we are thankful for. Whether in person with family or toasting from afar, we hope Medlock Ames can bring Thanksgiving wine to your table and a little warmth to your holiday celebration. Set your own table or surprise a friend or family member to make their Thanksgiving brighter.
2018 Fifty Tons Cabernet Sauvignon

Named for its structure, the muscular Fifty Tons Cabernet Sauvignon is harvested from steep hillsides that consistently produce fruit with incredibly intense flavor. A member-exclusive wine, the 2018 Fifty Tons Cabernet offers aromas of blackberry and blueberry accompanied by a powerful palate. Deep berry flavors mix with fresh, juicy red fruit elements and a luxurious chocolate character, kept in check by silky tannins and integrated acidity.
This wine is simultaneously big, bold, balanced, and elegant, calling for a food pairing with an equally strong personality. With the traditional Thanksgiving meal, we enjoy this wine alongside roasted potatoes or brussels sprouts with bacon. The salty, fatty components bring complementary complexity to this stand-out wine.
2018 Heritage Merlot

Our 2018 Heritage Merlot is filled with bright mouthwatering acidity giving freshness that brings the palate to life with elegant characters of blueberry, black cherry, spiced plum, cocoa, and fresh herbs. A very structured mouthfeel offers an abundance of minerality and lushness making this a wine that can be enjoyed now but will also open over the years.
The fruit these vines produce has intense flavor and tannin. An ideal wine to enjoy on its own cozied up by the fire, this beautiful Bordeaux varietal is also indulgent paired with grilled meats and creamy cheeses.
2018 Estate Red

Your favorite red blend – 70% Cabernet Sauvignon, 19% Merlot, 6% Cabernet Franc, 4% Petit Verdot, and 1% Malbec – the Medlock Ames Estate Red is a unique mix that is delicious right out of the gate, vintage after vintage. This wine hits on all cylinders: flavor, color, texture, depth, finish, and overall impression. "The alchemy and artistry of blending is something that challenges and motivates us," says Winemaker, Ames Morison, and that motivation is clearly expressed through this wine.
This is a bottle that loves spicy, salty, and fatty food components, and pairs well with many of your go-to Thanksgiving dishes, from the main course of turkey and stuffing through dessert and beyond. If you're opting for to-go over go-to, enjoy this wine alongside takeout Italian dishes like fresh pasta tossed in a Bolognese­ sauce or filet mignon from your local steakhouse.
2018 Lower Slope Chardonnay

The 2018 Lower Slope Chardonnay brings us aromas of farm fresh sweet cream and pears with a touch of peach and hazelnuts. On the palate, the wine walks a fine line between the fresh acidity of the wine's youth and the rich umami character born of aging sur lie. This comes through in a balanced combination of green apple freshness that evolves into a lengthy finish with lingering notes of apricot.
This wine is a match made in heaven for creamy soups and rich buttery green beans. The Lower Slope Chardonnay can also carry its way into dessert alongside pumpkin pie and apple crisps.
2020 Sauvignon Blanc

Our 2020 Sauvignon Blanc, planted at a higher elevation with ample sunshine, opens up with aromas of lemon curd, honeysuckle, white flowers, and grapefruit. Seeing brief skin contact to extract structural elements and intensify the character of our Sauvignon Blanc fruit, this wine's structured palate offers flavors of lemon zest, crisp granny smith apple, and guava that are rounded out with palate-cleansing acidity. Try it paired with creamy mashed potatoes and you'll be sure to go back for seconds.
If cooking isn't in the cards, this wine shines alongside the bright flavors of citrus-forward Mexican dishes and good company.
If you have of these wines or their past vintages in your cellar, we recommend pulling them out or chilling them down this season!
Cheers and Happy Holiday from the Medlock Ames family.
Comments
Commenting has been turned off.